Detailed case study
Search engine marketing campaign
Website built by Range
Goal discovery & strategy planning
The Range Marketing team was one of the first in the internet marketing space to successfully and broadly market a local dispensary for SEO purposes. With huge improvements over a several year span, this dispensary has become one of the highest grossing dispensaries in the world. It's important to look at all correlating factors and to reference improvements based upon metrics that can be attributed to our website, SEO campaign and other marketing services.
This dispensary has become one of the highest grossing dispensaries in the world. Our campaign has grown online traffic as well as foot traffic.
Increase in annual organic users. A noticeable improvement on their bottom line!
The Original Campaign – 2014 & 2015
This campaign started in 2014. At this time, the client was not well equipped for SEO, needing web services in addition to SEO to fully position their website for Google's purposes. Initially, this client did not wish to rebuild their website and platform, so the Range Marketing team performed SEO as best we could using their existing website.
"The amazing team at Range Marketing really went
above and beyond our expectations"
Looking back, the improvements through the 2015 year were significant, but our efforts were limited to reapportioning key search terms on Google to higher value terms due to the inability to implement our core strategy autonomously.
Search Traffic Growth
Despite the limitations, our team managed to improve total traffic 110.21% when comparing the 2015 year to the 2014 year. Over 10,000 organic visits were added and over 7,000 direct visits were added.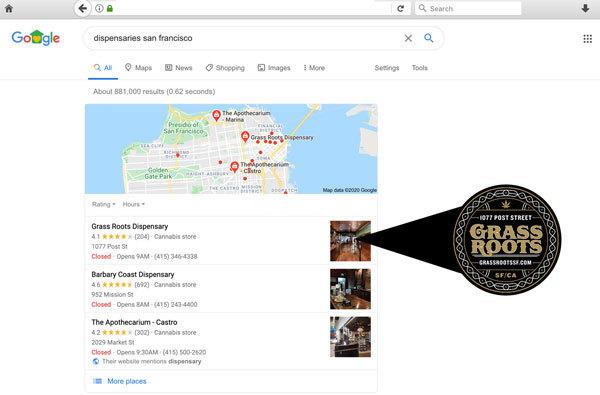 This drastic improvement eventually lead to a change in their in- house marketing procedures and later, Range Marketing took over the entire scope of the campaign.
The New Website – 2017 Forward
In 2017, the ownership of the dispensary moved to rebuild their website from scratch, fully developed by Range Marketing. While our team was able to build a great foundation for the business over the years, this had a drastic impact on improving the businesses' visibility. Traffic skyrocketed, and so did engagement statistics. Not only did quantity of visits improve, quality of visitors did as well.

When comparing the first full year of the new website (2018) to the last full year Range Marketing was performing all marketing services on their old website (2015): Organic users increased from 21,825 users to 122,410 users. Direct users increased from 14,432 users to 62,068 users. Referral, social and email traffic stayed cumulatively flat as those campaigns were re-budgeted to focus on the website and SEO budget.
Bounce rate, a measure of user drop-offs
was reduced by over 24%.
The new bounce rate of 26.28% indicates that almost three quarters of users visiting the website had a meaningful interaction with the website. These strong statistics have continued to produce into the 2019 year and forward.
A World-Class Website
It's important to note that while our marketing services were implemented in the 2014 and 2015 years, that even compared to our own marketing services, rebuilding a website in our platform entirely caused a 561% increase in organic users.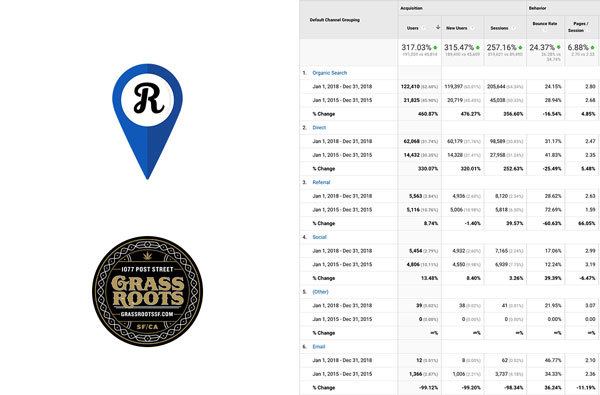 Even further, when comparing to the 2014 year, those same statistics would represent a 1,022% increase in organic users. Even more important, in 2014, only 46.7% of visitors were a new user.
In 2018, even after several years of exposure and brand knowledge,
63% of visitors were new users.
New customer acquisitions are by far the most important part of growing any business, and our product has shown that it will continue to grow at scale due to increasing visibility on terms which consumers are searching for.