Northeast Industrial Roof, Inc
Project Proposal
1.0 Project Overview
Our goal through this proposal will be to work together with Northeast Industrial Roof, Inc to re-develop the front and back-end of their website to ensure SEO opportunities are maximized on an ongoing basis, as well as create a consumer experience that's extremely functional and visually appealing. The recommendations in this proposal are designed in the best interest of Northeast Industrial Roofn Inc's long-term website/internet presence, visibility and SEO.
It is our intention, through the website's custom development and high-level SEO, to help grow Northeast Industrial Roof far beyond their current capacity. It is our primary objective to grow their ranking, authority, and online presence, so that every prospective consumer can find them, and chose to contact and hire them for all of their industrial and commercial roofing needs over their direct competition in the surrounding Geo-targets, all from searching on Google.
This proposal will cover two phases: "Phase 1", which is the website rebuild portion of the project and "Phase 2" is the implementation of our additional SEO services, in order to get the redesign live as soon as possible.
2.0 Project Deliverables
Below outlines deliverables for this project.
Project Discovery
Our Project Discovery process is integral to developing a website that is both on time and exceeds expectations for both the client and our team. At this point, we have already completed a majority of this deliverable, but the details of our process are outlined below.
Steps in this process include:
Initial client meeting to determine technical scope, visual desires, company mission, and the full walkthrough of services client offers.
Detailed breakdown of each project deliverable included in the website in a clearly defined technical scope.
Buildout of Sitemap to establish what content will be on the website, and what page it will be included on.
Establish a Project Schedule with concrete deadlines for multiple phases of the project.
Creative Design
A website is nothing without it's design. At Range, we handle the creative portion of design a bit differently. Typical agencies will execute the design research phase and then produce visual-only mockups in PDF form, essentially showing you one big image that you approve before moving into development.
While in some projects this does make sense, in the majority of our projects this lengthy step is costly to both the client and ourselves, and isn't necessary because of how we develop sites.
Our Creative Process stays completely within the realm of research and planning. We work with you to identify the most important information you want the design to convey, and from that formulate a quick sketch that outlines how we can structure that information.
From there, we research other beautiful sites on the web and come up with our own unique layout groups that we'll apply to the development. We're still in the planning phase here – the design comes to life during our actual development project.
Because of this process, the first "design" preview you see will actually be a developed website, allowing you to preview it on all of your devices as well as get a first look at the interactivity/features of the site.
Development Environment Setup
Range will develop your site in a closed environment on a completely different server from where your live website will be. This process is complex and takes time to set up, but is critical for the future safety of your website. Once your website goes live on the internet, we still host your development environment. This serves a couple functions:
Acts as an additional backup layer in the event of something happening to the live site.
Remains a preview for future changes to your site.  If you require a big design change, new page design, or new functionality, we can safely test and preview everything on your development website before moving it to production.  This ensures that your live website will never "break" due to meddling around with the code when building something new.
Core Development
Core Development is generally the largest deliverable in the project, notwithstanding any additional complex custom applications or functionality. During this phase of the development we will:
Install and set up the Content Management System (CMS) used for the website – in this case WordPress.
Install and set up a suite of plugins and performance-enhancers for the website.
Design and develop site-wide features of the website, like navigation, footer, and sidebar.
Design and develop the homepage.
Design and develop the content-focused interior pages (such as About Us, Contact Us, Blog, Services Provided, etc.)
Ensure author functionality is designed and developed, allowing users to see pictures of the article author as well as a bio page with summary of posts by that author.
Set up usernames/logins.
Content Implementation
Content Implementation is just that – adding all of the content to your website. This step is different for every client, but typically includes things like:
Working with the client to obtain all necessary content for each page of the website.
Obtaining and cropping/optimizing high resolution images from the client and/or purchasing stock imagery.
Adding content onto each page of the website.
Website Launch (Deployment)
When your website is ready to go live on the internet, we run through a detailed checklist to ensure the launch is safe and without interruption. Things on our checklist include:
Taking a final backup of the development website.
Setting up the production environment server (similar to setting up the development environment).
Transferring files from development to production.
Testing the website on production locally (making sure the site will load perfectly once the domain name is live on our servers).
Handling the technical process of pointing the domain name to our servers.
Running post-launch steps to performance plugins.
Installing SSL on the live website (https://yoursite.com vs. http://yoursite.com).
Testing all features of the live website, and testing contact form delivery.
3.0 Project Budget
The budget is derived directly from the list of deliverable's included within this proposal "Scope". The overarching goal is to create a website paired with our proprietary on and off-site SEO packages that will be utilized to generate regional, organic search results. The budget is derived directly from the list of deliverable's included within this proposal "Scope".
| Description | Cost |
| --- | --- |
| Website Re-development | $3,000 |
| 5% Financing Fee | $150 |
Total Project Budget
$3,150
4.0 Project Schedule
The project schedule is a list of soft deadlines for the project; they are milestones we strive to achieve. Website development is a dynamic process and it's commonplace for new ideas to arise, communication to occur, or Scope be slightly tweaked. While it's rare for us to miss targets, the schedule below is not held to any bounds concerning the budget or Agreement.
We schedule our projects conservatively, and it's also common for us to come out ahead of the milestones below.
| Deliverable | Date |
| --- | --- |
| Project Kickoff Date | May 15, 2020 |
| First-Look At Completed Website | June 19, 2020 |
| Website Launch + SEO Kickoff | June 26, 2020 |
5.0 Search Engine Optimization (SEO)
SEO + Boost
In the same alignment as our other clients in this space, we know that SEO is not a one-size-fits-all scenario, and so each campaign needs to be handled with custom diligence. We know that this is a competitive industry and so we will need to be nimble in our SEO efforts.
The options below are meant to give an idea as to what we could potentially fulfill under different levels of SEO + Boost. With that being said, National campaigns are typically more costly than Local Search campaigns, and have a longer timeline to produce results. Our monthly SEO can range anywhere from $1,250 – $15,000 / month depending on how extensive a campaign is, the target geo-strategy, total population within target geo's and how many man-hours need to be put behind the effort.
We recommend starting at the lower end of our product recommendations and adding on overtime as our results and rankings begin to peak. Realistically, an SEO campaign should anticipate a 12-month test trial, but we will work every day, on a month-to-month payment basis, to show that we will provide the work to earn your ongoing business.
Research and Analysis Based Geo-Targets Recommended for SEO Campaign: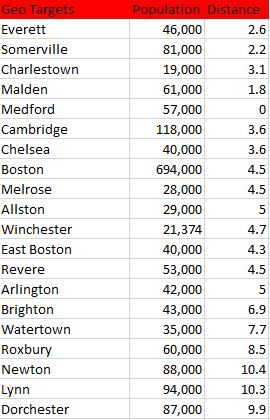 SEO Monthly Spend Package:
Option 1: (Recommended Starting Point)
SEO Gold + Level 3 Boost = $2,485/ Month
Custom Strategy from the SEO team
Campaign Strategy targeting key surrounding Geo-Targets listed
Work is performed by a dedicated SEO Strategist
Range Proprietary Software Install
Ongoing Hosting and Maintenance included
Includes setup of Google, Yelp, and Bing Local Listings
Includes up to 3 hours per month of website maintenance/updates
Includes weekly interactive reporting
75 backlinks per month
6.0 Additional Services
PPC – Pay Per Click 
It's recommended that in addition to building a website and utilizing our SEO strategy, we explore the option of Google Ads (PPC) to help the campaign in the early stages. Google Ads will allow us to target specific areas/regions that are identified as potential areas for high conversions. Unlike with your SEO campaign, Google will allow us to target areas as specific as the zip code!
Google Ads is typically recommended by our team as an add-on to maximize your potential return from your online marketing. We manage PPC spends of anywhere from $1,500 – $50,000+/month. We would like to gather some more information as to who and where we should be specifically targeting for this portion of your internet marketing campaign.
PPC Monthly Spend Package:
We typically do not go below $1,500/month in PPC spend, but we'd be willing to bring that number down to $500-$1,000 per month after our PPC team has had some time to research some commercial and industrial roofing keywords to determine if that level of spend would be worthwhile and yield us some value.
Our standard PPC Management fee for spend less than $5,000/month is 25% (which is added on-top of the monthly ad spend) 
6.0 Payment Schedule
Website Re-development: $3,150 (5% financing fee included)
Pulling down all assets (images, videos) and content from the existing site, and obtaining any update assets that may be relevant.
Setting up the core infrastructure of the new website with our technology.
Page-by-page redevelopment of each design/template.
Importing all assets/content into the new infrastructure.
Sending the site through our QA team to ensure design consistency throughout all devices.
Splitting the cost of the website over 6-months ($430 a month w/ $1,000 up-front)