Interactive reporting dashboard
Search engine marketing campaign
Website built by Range
Goal discovery & strategy planning
Range Marketing built a simple, yet visually appealing website for CannaBox Containers, with clear CTAs to align with their goals. The website was also built with SEO in mind. Since the beginning of the campaign, organic traffic has been the #1 way new customers find the website and fill out the contact form.
Originate from an organic search user.
In page 1 placements on Google.
Combined in a cohesive & strategic way.
In the first four months of search engine optimization.
Range Marketing has successfully developed a burgeoning national brand in the rapidly growing cannabis industry into one of the strongest search competitors in their space. By combining a strong web aesthetic with targeted search strategies, this client has experienced rapid growth, unmatched by any of their primary competitors.
In only four months…
Traffic has increased in a meaningful way: Cannabox has received 120 leads per month & is more visible on Google than ever before.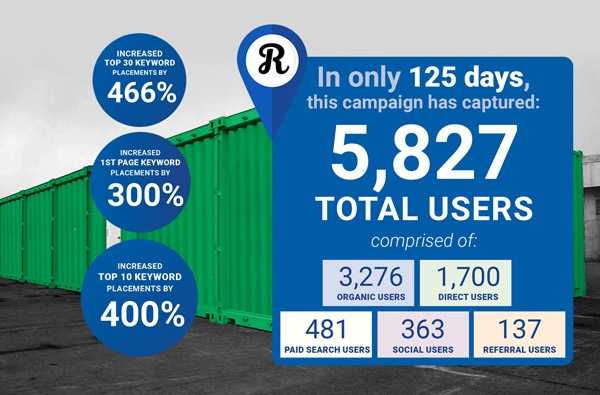 With 187 generated calls from the website directly and 10 extra calls from the company's GMB listing, this equates to roughly 500 total new leads in four months, or about 120 leads per month!
This equates to a cost-per-lead
under $35.
With systems selling in the five figure territory in gross dollars, this cost-per-lead is functionally unheard of in the search industry as it pertains to high dollar B2B-style products, with massive upside for short and long term profitability even after marketing spend is factored in.