BLAZE: The Rising Contender in Cannabis E-commerce Menu Solutions
November 14, 2023 | Posted in: E-Commerce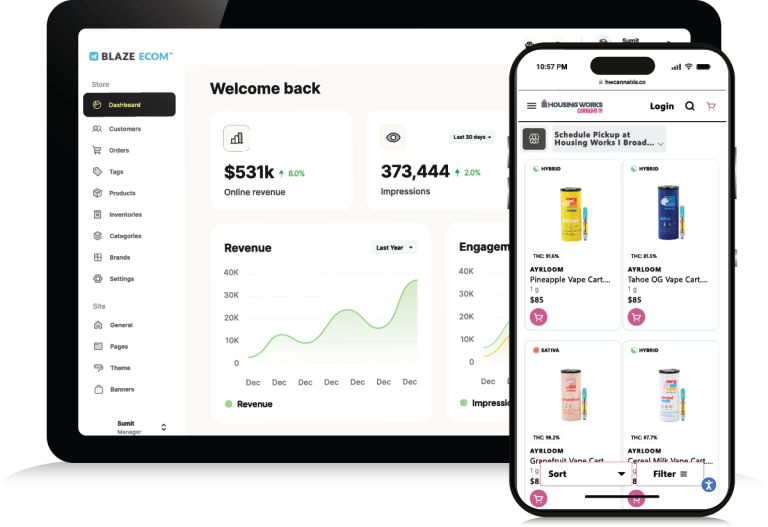 As a leader in the cannabis custom website and SEO marketing sphere, Range Marketing recognizes the critical importance of innovative solutions in dispensary e-commerce. That's why we're casting a spotlight on BLAZE, a burgeoning force in the cannabis e-commerce menu software category, and our strategic partner in delivering a cutting-edge online experience for dispensaries. 
What BLAZE Brings to the Table
BLAZE is carving out a name as the underdog amidst cannabis menu providers, offering comprehensive, tech-forward solutions for dispensaries. By seamlessly blending point-of-sale (POS) functionality with intuitive e-commerce platforms, they enable cannabis businesses to manage and grow their operations with ease and efficiency.
Acquisition of Tymber: A Game-Changing Move
The acquisition of Tymber, a software offering elegant e-commerce solutions, has allowed BLAZE to extend their reach and bolster their offerings. This strategic move empowers BLAZE to provide a more rounded, full-service solution to dispensaries, ensuring they have all the tools they need for success in one platform.
BLAZE's Unique Market Position
BLAZE stands out for its commitment to advancing dispensary operations with features that meet the unique demands of the cannabis market:
Key Features:
Robust Inventory Management:

Streamlining stock control with real-time updates and tracking, BLAZE simplifies product management for dispensaries.

Omni-Channel Selling:

Whether it's in-store, online, or mobile, BLAZE ensures dispensaries can reach their customers wherever they are.

Compliance Made Simple:

Automated compliance features help dispensaries navigate the complex regulatory landscape with confidence.
The Power of Partnership: BLAZE and Range Marketing
Our partnership with BLAZE elevates the dispensary experience to new heights. Range Marketing's expertise in custom website design and SEO marketing, combined with BLAZE's innovative menu software, creates a formidable duo for dispensaries looking to dominate their market.
Watch Our Latest Webinar on "How to improve Dispensary E-Commerce Menu's for SEO":
Optimization and Visibility: A Dual-Thrust Approach
Menu Optimization:

BLAZE's dynamic menus integrated with Range Marketing's SEO strategies ensure that dispensary offerings are visible and appealing to the savvy online consumer.

Product Optimization

: Each product gets individual attention, enhancing visibility and information accessibility, driving both traffic and sales.

Seamless Customer Experience

: From the first click on the search engine results to the final purchase, the customer journey is smooth and intuitive.
Special Packages for Comprehensive Service
Dispensaries that bundle services from BLAZE and Range Marketing benefit from exclusive packages. These are designed to deliver a robust online presence, targeted traffic, and high conversion rates, all while optimizing operational efficiency.
BLAZE, with its advanced software solutions, backed by the strategic SEO and custom web design prowess of Range Marketing, offers a compelling competitive advantage. This partnership ensures that dispensaries are not just participating in the market but are staying ahead of the curve, enjoying enhanced visibility, optimized operations, and an unmatched customer experience. For dispensaries ready to blaze a trail in the digital world, this alliance is the key to unlocking their full potential.
With a synergistic approach to e-commerce menu solutions, BLAZE and Range Marketing are here to redefine what it means to succeed in the cannabis industry. Together, we provide the fuel for your dispensary's growth and the map to navigate the digital landscape effectively. Contact us to discover how this partnership can ignite your dispensary's potential and set you apart in the competitive cannabis market.
Check out the real results we've had with our mutual client Tropicanna Dispensary: Range x Tropicanna Case Study
Fill out this form below to find out more regarding our bundle packages:
Contact Form | Range Marketing