Interactive reporting dashboard
Advanced e-commerce functionality
Website built by Range
Goal discovery & strategy planning
95 Nutrition came to Range Marketing looking for much more than a website. They are a rapidly growing sustainable dieting program that has multiple customer touch-points along their purchase funnel. A regular e-commerce website simply would not have met their needs. They offer highly customizable restaurant-quality dishes, multiple physical locations, and different potion sizes. Our web design team created a highly sophisticated web app for them that is now serving record numbers of loyal customers.
With highly customized e-commerce & checkout features. 95 Nutrition's complex products, made simple.
Multiple Locations & Delivery
Most e-commerce sites only need one method of delivery. 95 Nutrition is in a league of it's own. They have a growing number of physical locations, plus they offer overnight shipping. To make that all possible, their new site has a custom-built backend that makes selecting a shipping/pickup method easy for customers.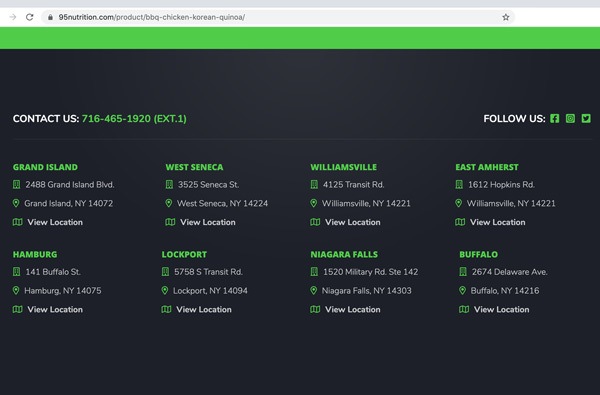 Finally, a website
worthy of 95 Nutrition.
Custom Slide-In Cart
95 Nutrition's loyal customers often select several items before proceeding to checkout. To make that user experience as seamless as possible, we integrated a custom "flyover" shopping cart.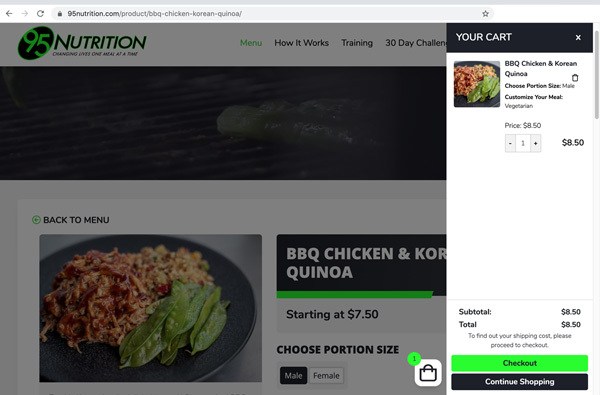 Options, options,
and more product options.
Product Attributes
The very nature of 95 Nutrition's products is that they are tailor-made to the customer's specifications. On an e-commerce website, that requires a flexible and intuitive setup. Range Marketing built out their online catalog in a way that makes ordering easy for visitors to customize to their liking.